Attention GCCS Staff! Please see the memo from Superintendent, Max Perez!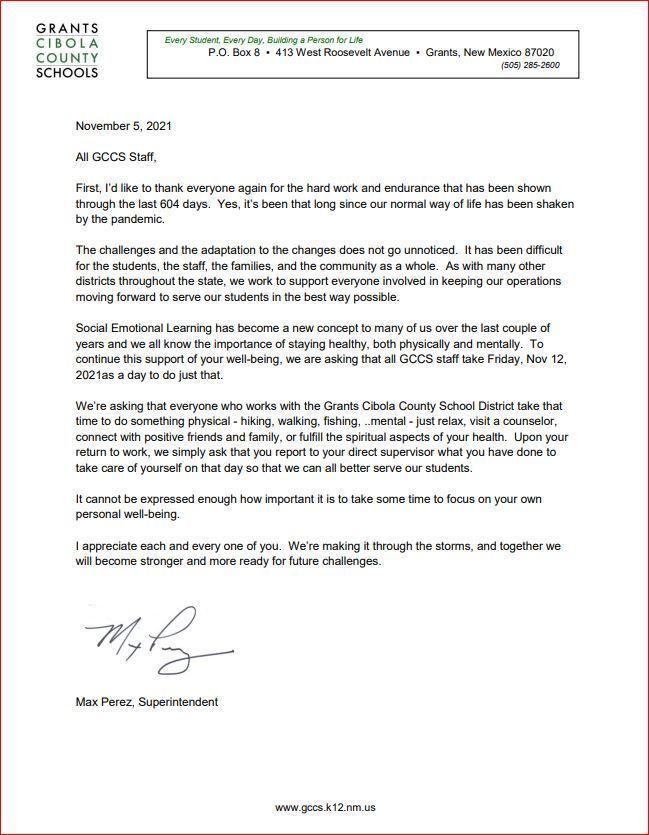 YOU'RE INVITED! Grants High School will present its annual Veterans Day Tribute, Honoring All Who Served, on Wednesday, November 10th at 7 pm at the Grants High School Performing Arts Center. Admission will be free and the public is invited to attend. The concert will feature performances by the Grants High School Band and Choir. The GHS MCJROTC Color Guard will be there. The MCJROTC Cadets will also help present handmade quilts to 5 special veterans from our community. The quilts have been made by members of the Mt. Taylor Quilt Guild. Please join us for this special event honoring the Veterans of Cibola County.



To all in the GCCS Community: A message was sent out on social media this evening regarding a possible threat to the staff and/or students at "Cibola School". Confirmation was made through law enforcement that the message was NOT directed at Grants-Cibola County Schools. The District takes all threats very seriously and remains vigilant against any threat to students or staff. Once again, the threat was not directed at Grants-Cibola County Schools students or staff.

AND THE WINNER IS!!!!! Stayed Tuned!!! The Attendance Traveling Trophies will be awarded soon so be on the lookout!!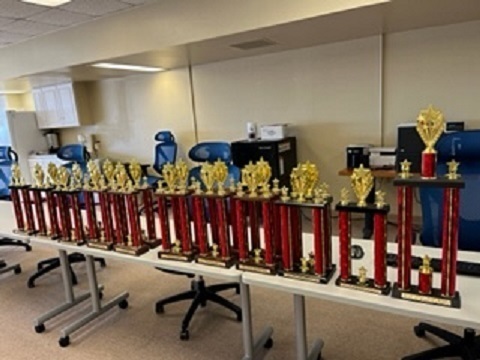 Attention GCCS Friends and Families. From the Grants Police Department FB Page. Please spread the word! Thanks.


Today is over! May tomorrow be Great!!!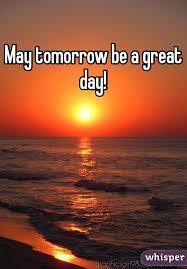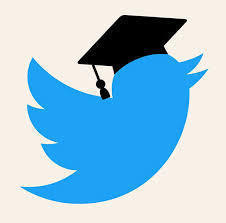 Just a reminder that tomorrow is Election Day and Here is some important information for your review! Have a Great Day!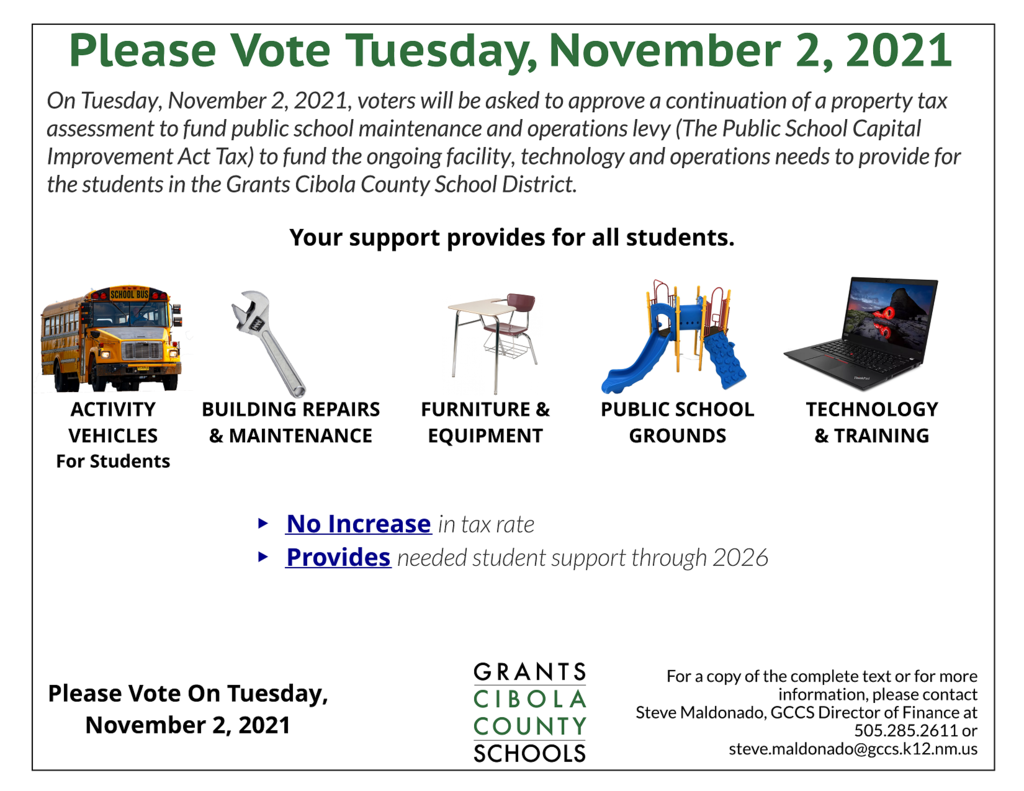 Hey everyone! You can now follow Grants Cibola County Schools on Twitter! Go on over and give us a follow! @gccsgrants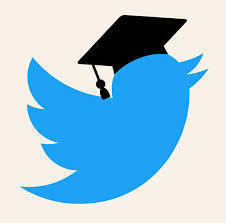 HEY GCCS PEEPS!!! HAVE A FANTASTIC WEEKEND! YOU'VE EARNED IT!!!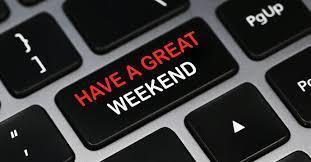 Scheduled School Board Meeting.

Important Election Information for your review. Election day is November 2, 2021.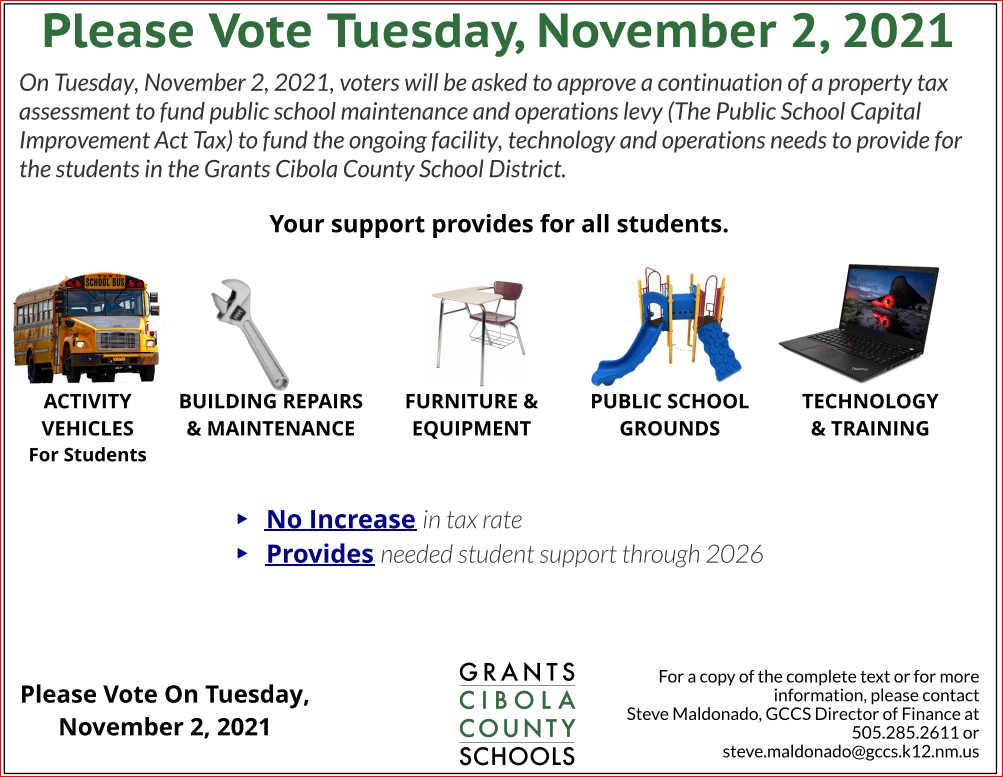 Grants Cibola County Schools want to send out a big THANK YOU to our local Pizza 9 and their staff for providing Pizza Coupons to all of our students!! You all at Pizza 9 are simply AWESOME!!!!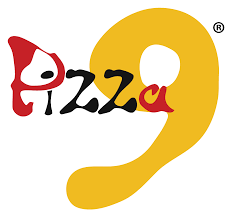 ATTENTION! Please review the very important Election Information Below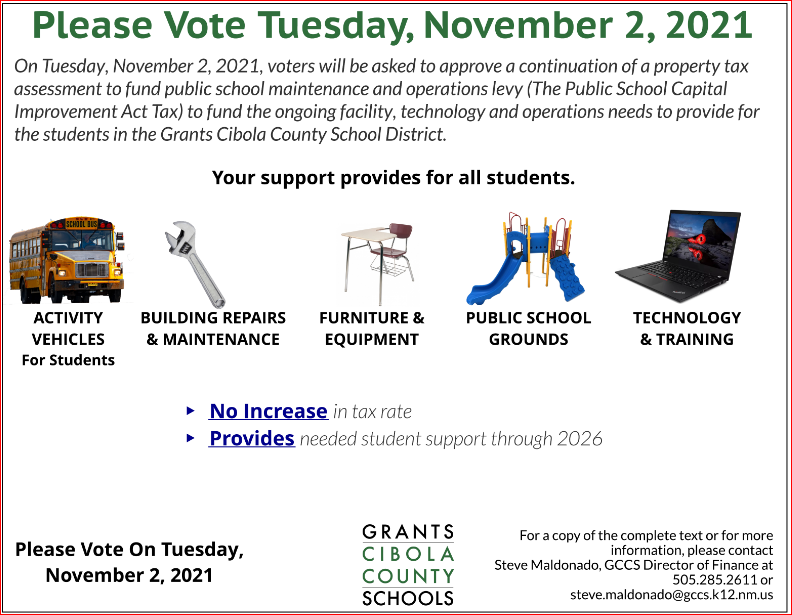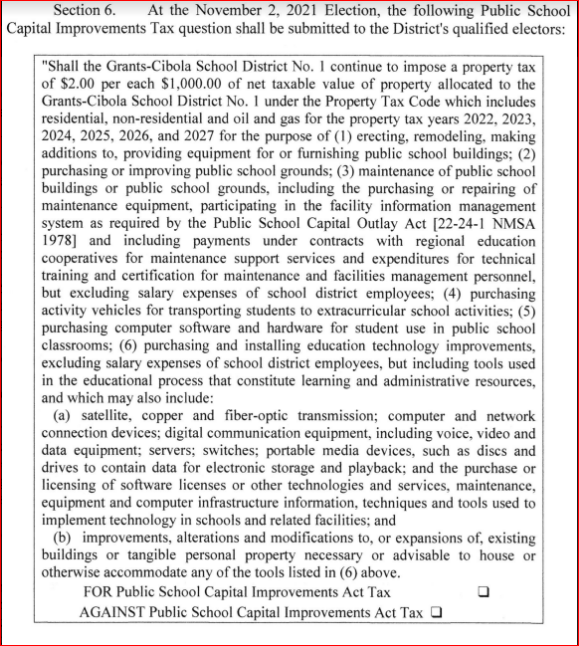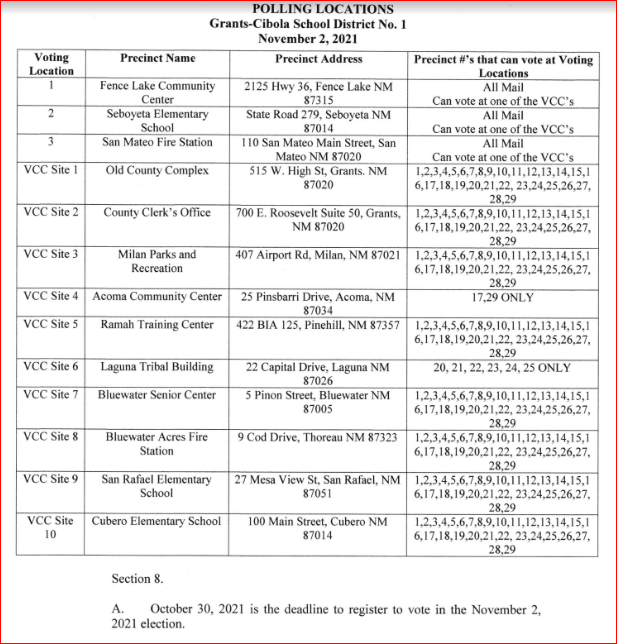 Grants Cibola County Schools Public Notice for School Board Meeting.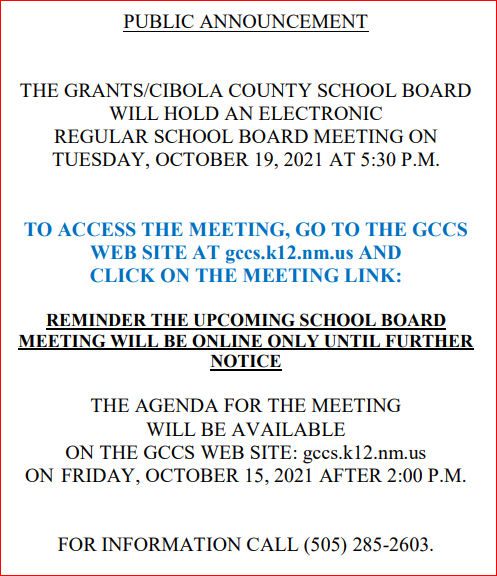 Hey everybody, if you plan on attending the football game between Laguna Acoma High School and Grants High School on 10/12/2021, please see the attached letter.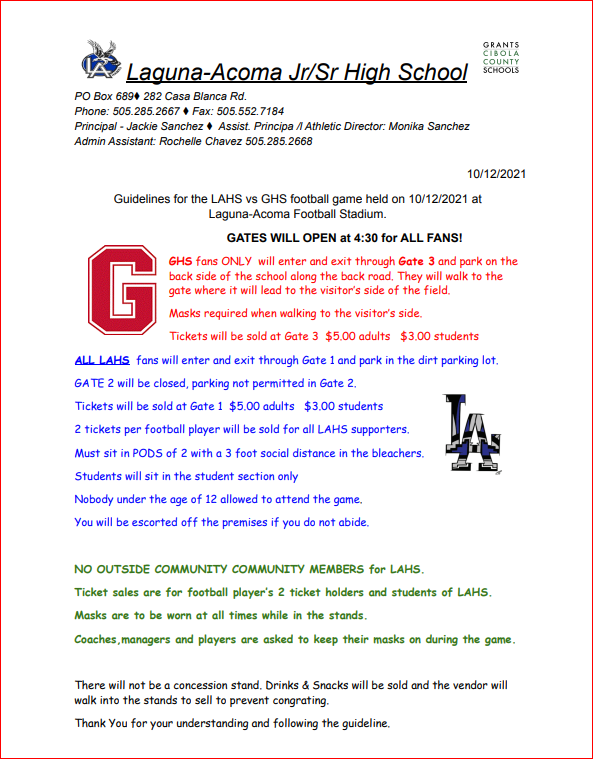 To all GCCS Staff. Enjoy your Long Weekend and Come Back Ready to be Great as Always!!!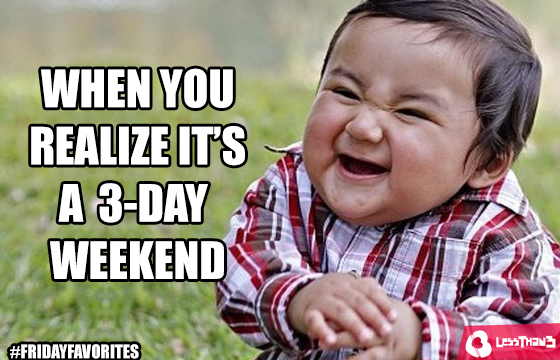 Parents, there will be no school on Monday, October 11 in observation of Indigenous Peoples Day.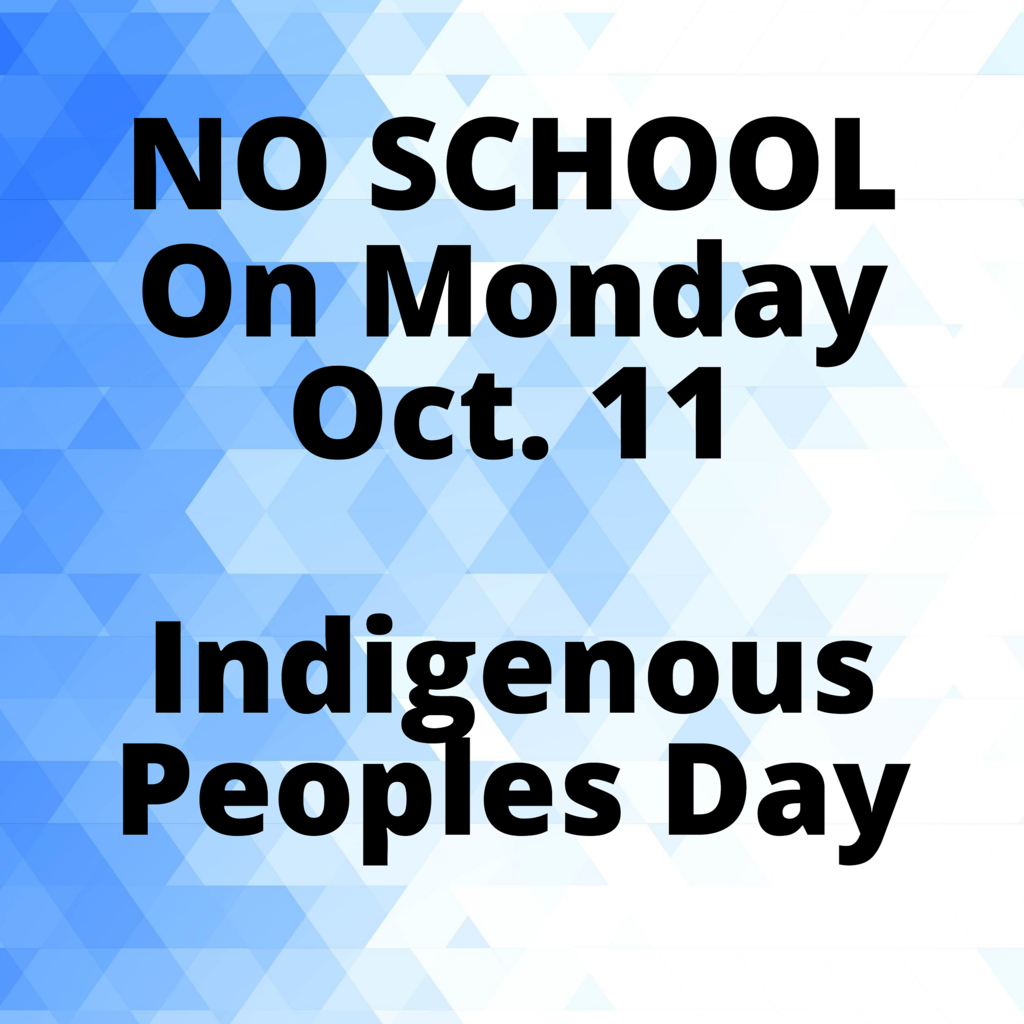 Grants High School will hold its Fall Performing Arts Spectacular on Wednesday, October 13th at 7 pm at the Performing Arts Center. The evening will feature performances by the GHS Jazz Band, the Grants High School Choir, GHS Advanced Drama, and the Pirate Marching Band. Admission for the show will be $5 and tickets can be purchased online at
https://secure.payk12.com/.../Grants-High.../697/2939/14057
On the night of the Concert the doors will open at 6:30 pm. Please join us for the exciting return of Performing Arts at Grants High School.