On January 10th, students in 7th-12th grades will begin participating in the Our Youth, Our Future survey in cooperation with the Tri-Ethnic Center for Prevention Research at Colorado State University. The funding for the administration of the survey comes from a federal grant awarded to the Tri-Ethnic Center, which allows the survey to be conducted at no cost to the school. Participation in this survey is voluntary, anonymous, and confidential.
There are two ways you may withdraw your child from participating in the survey:
1. You may call or email Kristen Riley at 505-285-2674 or kristen.riley@gccs.k12.nm.us . with your request.
2. You may sign on the back of this notice Our Youth, Our Future Survey and send it back to the school.
If you opt your child out of the survey, your child will be given an alternative activity.
In addition, a copy of the survey is available from the school office for parents who would like to review it. Laguna-Acoma Jr / Sr High School believes that students' participation in this survey will assist the school in planning, funding and evaluating drug and alcohol prevention programs.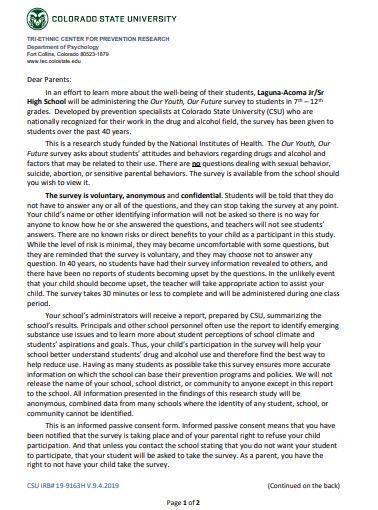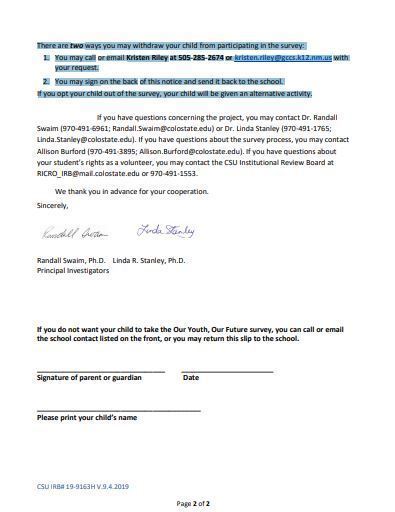 Allison Burford, M.A.
She / Her / Hers
Field Director, Tri-Ethnic Center for Prevention Research
Colorado State University
Office: 970-491-3895
Cell: 817-228-6521